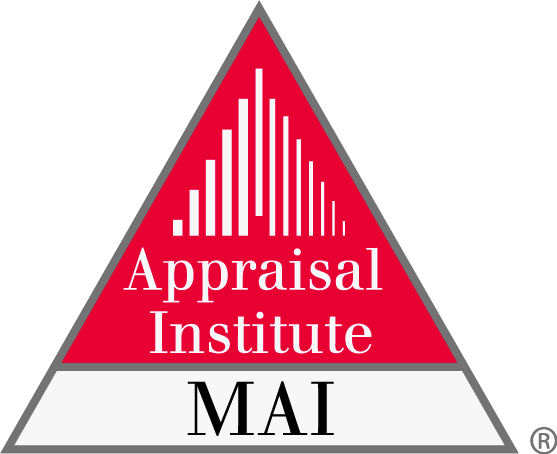 As a real estate appraiser, Bruce E. Jones MAI, ASA, BCA, CMEA, CTA has over 30-years' experience as a Real Estate Professional.
Professional Real Estate Designations and Experience Include:
MAI – Designated Member of the Appraisal Institute
The most prestigious professional real estate designation available, has long been recognized by courts of law, government agencies, financial institutions, and investors as a hallmark of professionalism and expertise in real estate appraisal.
ASA – Accredited Senior Appraiser
The American Society of Appraisers is the nation's oldest and largest interdisciplinary appraisal organization. Appraisal disciplines within the ASA includes specialists in Business Valuation, Real Estate Appraisal, Machinery and Technical Specialties, Personal Property, Gems & Jewelry.
GC - Going Concern Specialty
This Going Concern (GC) specialty, offered by the American Society of Appraisers, is designed for those appraisers who value complex commercial real estate with a business component, such as car washes, fueling stations/c-stores and lodging properties on a regular basis. (Application pending)
Highly experienced in appraising a wide variety of property types, including:
INSTITUTIONAL GRADE PROPERTIES – Experienced in appraising high value income producing assets throughout the United States for clients including pension funds, REITS, insurance companies, asset management companies and development companies:

Neighborhood and Community Centers, Lifestyle and Power Centers, Factory Outlets, Regional and Super-Regional Shopping Malls
Suburban Office Parks and Buildings, Urban High-Rise Office Buildings, Corporate HQ Offices
Industrial Parks and Buildings, Warehouse/Distribution Buildings, Manufacturing Buildings, Flex Buildings, Light Manufacturing Buildings, Cross-Dock Distribution Centers, Truck Terminals and Showroom Buildings
Multifamily apartment properties: Class A & B assets, Class C & D assets, Garden and High-Rise, Student Housing, Age-Restricted and Low-Income Apartment
NON-INSTITUTIONAL GRADE PROPERTIES – There is a significant distinction between Institutional-Grade properties, which are of sufficient size and stature to attract the attention of investor entities such as pension funds and real estate investment trusts (REITS), as opposed to smaller, "local" properties.
It is inappropriate and often misleading to appraise non-institutional properties in the same manner as institutional properties. Common differences in appraisal between the two distinct asset classes are:

Many non-institutional commercial properties are purchased for partial or full owner-occupancy. The sales comparison approach is often the most reliable approach for these properties, rather than the income approach.

Income producing non-institutional properties that are purchased for the income producing attributes, commonly trade at capitalization and discount rates significantly different than those of institutional properties.

A common mistake made by appraisers is referencing sources such as the PwC Real Estate Investor Survey, (formerly published as the "Korpacz Real Estate Investor Survey", as well as the ACLI published transaction data. While both of those are excellent data products and highly useful in the appraisal of institutional assets, the use of this data for non-institutional properties is misleading and inappropriate. The PwC survey specifically states: Survey participants represent a cross section of major institutional equity real estate investors who invest primarily in institutional-grade property. As such, the information presented is not generally applicable to noninstitutional-grade investments.

The ACLI data from the American Council of Life Insurers similarly publishes commercial mortgage commitment data from loans made by life insurance companies. However, like the PwC survey, this information is entirely irrelevant for non-institutional grade assets.

I was a commercial real estate broker for 16 years prior to becoming an appraiser and have a real-world understanding of working with actual buyers and sellers and the mechanics of the local market for this class of properties. This includes a wide variety of vacant land types.